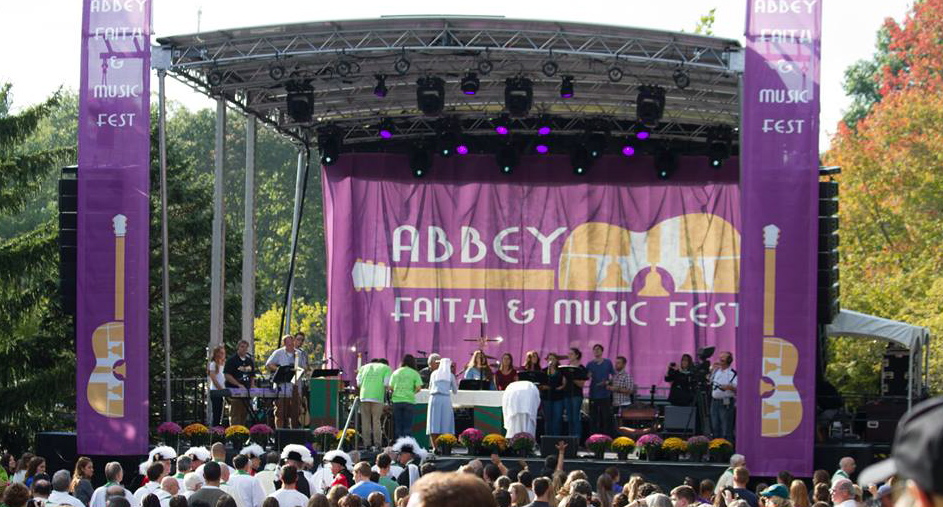 Planning an event can be a daunting task. Our experience, equipment inventory and talented crew are the perfect combination for a well planned, successful event.
Soundtracks Production Services LLC has everything it takes to make your event a success.  No need to search for multiple vendors to fulfill your production requirements.  We provide the staging, sound, lights, video, power, rigging and backline.
Call or email today to speak with a Soundtracks Production Services representative about your event.
Here is a list of some of the artists we have worked with:
| | | | |
| --- | --- | --- | --- |
| 21 Pilots | 38 Special | 50 Cent | Aaron Carter |
| Alicia Keys | All Time Low | Alligator Zydego | Andrew WK |
| Animal House | Anthony Hamilton | Antigone Rising | Ashanti |
| Asia | Avant | B.O.B. | B Street Band |
| Barenaked Ladies | Barrington Levy | Beanie Man | Beanie Seigel |
| Beatlemania Now | Beatnuts | Ben Kweller | Bernard Alison |
| Big Bill Morganfield | Big Daddy Kane | Big Sean | Big Shot |
| Big Time Rush | Bilah | Billy Hector | Billy Ray Cyrus |
| Biz Markie | Blackthorn | Blondie | Blues Brothers |
| Bluestring | Bobby Rush | Bowling For Soup | Boys Like Girls |
| Boyz II Men | Brand Nubians | Brandy | Breakfast Club |
| Brooke Valentine | Bubba Mac Blues Band | Butch Walker | Charlie Daniels Band |
| Charlie Murphy | Chiddy Bang | Cingy | Chinua Hawk |
| Christopher Lawrence | Citizen Cope | Cintron | Johnny O & The Classic Dogs of Love |
| Clipse | Collage | Common | Crystal Roxx |
| Dan Band | Daddy Yankee | Dashboard Confessional | De Sol |
| Demi Lovato | Dialated Peoples | Dirty Dozen Brass Band | D'Mello |
| Donnie | Don't Call Me Francis | Drake | Draw The Line |
| Drop Dead Sexy | Eddie Shaw | Edgar Winter Group | Edward Sharpe & The Magnetic |
| Entrain | Erykah Badu | EU | Eve 6 |
| Everclear |  Far East Movement | Fifth Harmony | Fighting Gravity |
| Flo Rida | Floetry | For King & Country | Foreigner |
| Fountains of Wayne | Fred Hammond | Freeway | Full Effect |
| Funkmaster Flex | Funktion 11 | Fuzz Band | Ghostface Killa |
| Gin Blossoms | Good Charlotte | Graham Colton | Granian |
| Groove Pocket | Gym Class Heroes | Hey Monday | HolyChild |
| Honor Society | Hot Rocks | Hotel California | Howie Day |
| India Arie | Interns | Jadakiss | Jake Owen |
| James Otto | Jamie Spears | Jason Aldean | Jason Derulo |
| Jazzy Jeff | Jeff Bradshaw | Jeremiah Freed | Jeremy Camp |
| Jesse McCartney | Jesse's Girl | Jo Dee Messina | Joan Jett |
| John Lee Hooker Jr. | John Legend | John Rich | Jon B |
| Josh Gracin | Jumper | Jurassic 5 | Justin Bieber |
| Kat DeLuna | Kate Voegle | Katy Perry | Kelly Price |
| Kem | Kenny Neal | Kes The Band | Kevin Little |
| Kevin Rudolph | Kid Capri |  Kindred | Koffee Brown |
| Kris Allen | La Bamba | Lady Saw | Last Week |
| Leann Rimes | Lee Greenwood | Leela James | Legends of Chicago Blues |
| Less Than Jake | Life House | Lil Dicky | Lil Ed |
| Lil' Flip | Lil Mama | Lil Wayne | Lloyd |
| Love Seed Mama Jump | Lloyd Dobbler Effect | Lucky Boys Confusion | Lupe Fiasco |
| Maceo Parker | Marcus Houston | Mark Anthony | Maroon 5 |
| Marty Stuart | Mati | Matt Nathanson | Maxi Priest |
| Mayer Hawthorne | Medeski Martin & Wood | Mercy Me | Metro Station |
| Michael W Smith | Miguek | Mike Posner | Miss Jade |
| Mitchel Musso | Montel Jordan | Musiq Soulchild | MXPX |
| Natasha Bedingfield | Nate Ruess | Naughty By Nature | Neo |
| Neon Trees | Never Shout Never | New Found Glory | Newsboys |
| Nick Carter | Nicole Scheringer | Nina Sky | Nine Days |
| No Question | Octane | P. Diddy | Party Dolls |
| Pat Benatar | Pat McGee Band |  Patrick Stump | Paul Cebar & The Milwaukeeans |
| Phantom Planet | Phil Vasser | Pink Spiders | Pitbull |
| Presidents of the U.S. | Pretenders | Profyle | Public Announcement |
| Rahzel | Raven Simone | Real Big Fish | Richard Marx |
| Right On Band | Rihanna | Rob Base | Robert Delong |
| Robert Hazard | Ronnie Baker Brooks | Rotoglow | Rubix Cube |
| Run DMC | Rusted Root | Sabrina Carpenter | Sam Roberts |
| Sara Evans | Schoolboy Q | Selina Gomez | Seven Mary Three |
| Sheila E | Shemekia Copeland | Silk | Sir Psycho |
| Sister Hazel | Sonic Youth | Soul Cruisers | Soul Live |
| Soulja Boy | Spin Doctos | SR 71 | Sterling Waters |
| Steven Curtis Chapman | Still 19 | Still Surfin' | Strangefolk |
| Stroke 9 | Sugar Daddy | Super Mash Brothers | T-Pain |
| Tab Benoit | Tavares | Tenth Avenue North | Terri Showers & Total Praise |
| The Clarks | The Dreaming Tree | The Hitmen | The Intruders |
| The Nerds | The Niche | The Pie Tasters | The Roots |
| The Shuers | The Temptations | The Uplifters | The Veronicas |
| The Wailers | They Might Be Giants | Third Day | Third Eye Blind |
| Thompson Square | Tim Reynolds | Toasters | Tommy Conwell |
| Toby Mac | Toots & The Maytals | Train | Trammps |
| Tramps Like Us | Trina | Tripping Billies | Tye Tribbett |
| Uncle Kracker | Unforgettable Fire | Urban Guerilla Orchestra | Vanessa Hudgens |
| Victor Manuelle | VP215 | Wayne Wonder | We The Kings |
| Welbilt | Wiz Kahlifa | Wyclef | Yellowjackets |
| Yes |   |   |   |